BigCommerce vs Shopify: The Ultimate Comparison
If you plan to launch your business online, you might have come across confusion about which one to prefer between BigCommerce and Shopify.
Without any doubt, both BigCommerce and Shopify is a great website builder platform for E-commerce businesses. Both have their specialty and features which will help you with creating a user-friendly website.
This article discusses BigCommerce vs Shopify with all possible aspects like their background, price, pros & cons, designs, features, etc. By the end of this article, you will be able to decide which one to choose? So let's begin.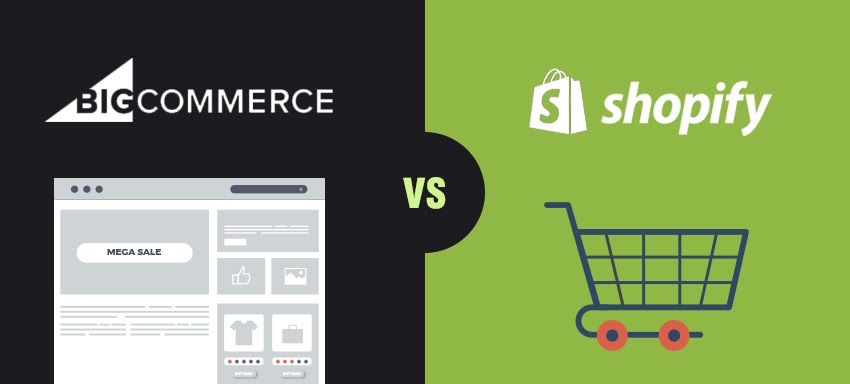 BigCommerce v/s Shopify: Background
Why BigCommerce v/s Shopify?
The answer is that these two platforms are the top most preferable platforms. They provide various features at an affordable price. Both products run online, which means that you do no need to install any software on your desktop or laptop, they can be run from anywhere anytime due to their online presence.
BigCommerce was founded in 2009, headquartered in Austin, Texas. It provides a SaaS E-commerce platform. It is a public company with more than 600 employees and serves 100,000+ online stores globally.
Shopify is a bit older. It was founded in 2006, with headquarters in Ottawa, Ontario, Canada. It was first launched as an E-commerce platform. Today, they have become one of the fastest-growing companies with more than 600,000 online retailers globally.
It is being seen that Shopify has more users globally as compared to BigCommerce.
BigCommerce v/s Shopify: Pros and Cons
Before choosing between BigCommerce and Shopify, first explore the pros and cons of both platforms. All E-commerce tools come with their strengths and flaws.
Let's see both Pros and Cons.
BigCommerce Pros
Thousands of built-in sales features
No transaction fees
Support SEO features, which help in ranking
Multi-channel selling facilities
No coding knowledge required to use BigCommerce
BigCommerce Cons
Beginners may face difficulties to use
To utilize most out of the tech, basic coding knowledge is required
Creating multilingual stores are not that easy
Have to pay more when sales threshold get touched
Shopify Pros
Easy to add sales features for your site
All range of plans are available to select
Multiple themes and designs are available
24/7 support system, including Shopify experts
Robust backend support with various plugin tools and extensions
Shopify Cons
Poor scalability, have to rely on third-party apps
Transactions fees, if done from other payment systems
Templates switching means reformatting of the site
Not SEO friendly
Blogging features is not good
BigCommerce v/s Shopify: Pricing
The foremost thing that comes to the buyer's mind while purchasing is the product's "Price". It doesn't matter how many unique features the product has if you cannot afford it. So here comes the pricing of both the platforms:
BigCommerce Pricing
BigCommerce offers four pricing plans, which you can choose according to your budget.
Standard: $29.95 per month
Plus: $79.95 per month
Pros: $ 299.95 per month
Enterprise: as per the requirement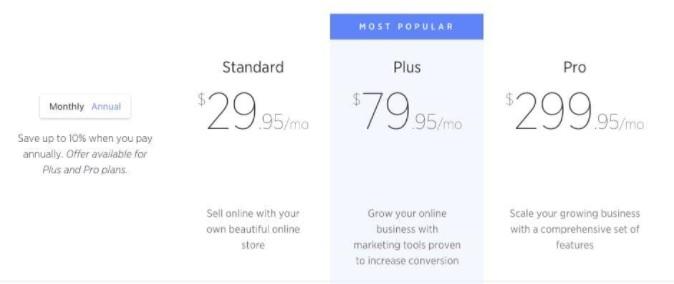 Each plan gives you access to the native functionality which is needed to fulfill your sales goals. After selecting the plans, it becomes easy to estimate your software cost and set the budget accordingly.
Shopify Pricing
Shopify offers five pricing plans
Lite: $9 per month
Basic Shopify: $29 per month
Shopify: $79 per month
Advanced Shopify: $299 per month
Shopify Plus: as per the requirement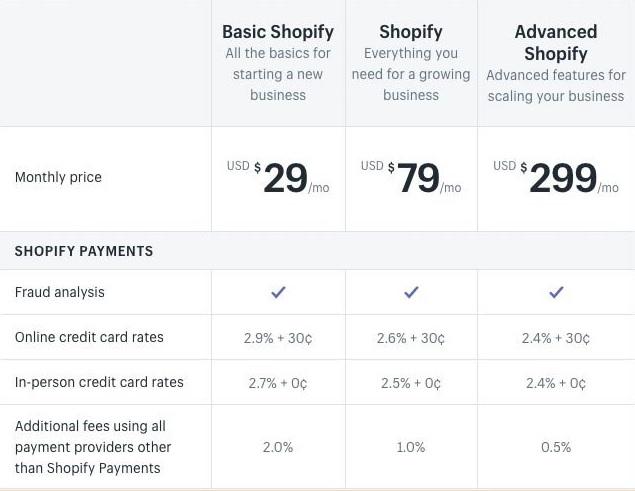 Shopify pricing plans are made according to the website features. So before selecting any of the plans you need to have knowledge of the features. Shopify has its own payment gateways, where you will be charged if you choose other payment gateways.
BigCommerce v/s Shopify: Themes
Themes make the first impression of your website and attract the customers accordingly. Both BigCommerce and Shopify have a great collection of themes with mobile-friendly features.
BigCommerce: Themes
The theme library of BigCommerce is quite impressive, though it may not be that big as compared to Shopify. It has various free themes which can be easily applied to your display.
When it comes to customization, BigCommerce provides you very easy customization features where you can change the Logos, adjust the site header & footer, menu, and many others. But to customize in depth you should have the basic knowledge of HTML or CSS so that you can do whatever changes you want to your site.
Shopify: Themes
Shopify gives you a lot of freedom in selecting your themes. There are more than 100 E-commerce templates from where you can choose and 20+ of them are free. Isn't it amazing?
You can browse the templates and can filter them from their price and industry. The best part is that all the themes are mobile-friendly. Also, if you don't have any coding knowledge, you can still easily customize the site with Shopify's built-in theme editor.
Overall, the themes that Shopify offers are tailor-made with multiple options from which you can make your best choice. Still, to make the best use of themes, you can look to hire Shopify developers.
BigCommerce v/s Shopify: Functionality
Before making your decision on which one to choose between BigCommerce and Shopify, it is necessary to look at their functionality.
BigCommerce: Features
BigCommerce offers you multiple great features to make your website successful and start your online selling conveniently.
Some of the basic features include:
Marketing & conversion tools
Mobile cart conversion
Built-in blog for content marketing
Social sharing for products & purchases
Side-by-side product comparisons
Public & private wishlists
Mobile optimized
Drop shopping management
E-commerce analytics
Sales management
CatLog API
Cart API
Shopping cart
Abandoned cart saver
Shopify: Features
Shopify offers its users fundamental features that are required to launch a successful e-commerce site.
Some of the very basic features include:
Secure shopping cart -256-bit SSL
100+ professional themes
Use your domain name
SEO friendly
Abandoned checkout recovery
70 payment gateways
Translate to 50+ international languages
All themes mobile-friendly
Blogging platform
Gift Cards
Unlimited Products
Unlimited bandwidth
Custom domain name
BigCommerce v/s Shopify: Payment Process
Besides offering the best online and offline sales support, it is also necessary to provide the facility of various online payment gateways. Let's see how:
BigCommerce comes with more than 600+ payment gateways, which support almost 100 countries' payment modes and 250 local payment methods. It means that your customer can choose any of the payment gateways like Amazon, Apple Pay, Stripe, etc.
When it comes to Shopify payment gateways, it also gives a lot of varieties. If you are ready to pay extra for your transaction then you can go with 100+ payment modes. Shopify allows you to trade internationally, also you no need to worry about the login and updating of the transaction details every time as it is very easy to use.
BigCommerce v/s Shopify: Customer Support
If you are really into the online business, then multiple factors matter other than pricing and shipping rates. What if you will face issues while shipping or upgrading your plans from basic to standard, you will require a strong support team.
When it comes to Customer Support, both BigCommerce and Shopify have similar options like 24/7 support, LIVE Chat, Email support, FAQ sections, Forum communities, and others. They also provide phone support.
The final note on:
BigCommerce v/s Shopify: The Ultimate Comparison
If you are just starting your e-commerce business and need minimal features and want to launch in a short time, want to be attractive then you can go with Shopify.
If you have coding knowledge and have established a business but want to switch online then you should go with BigCommerce.
Moreover, both the platforms offer free trials, why don't you give it a try?
Author's bio:
Author Name: Harikrishna Kundariya
Biography:-Harikrishna Kundariya, a marketer, developer, IoT, ChatBot & Blockchain savvy, designer, co-founder, Director of eSparkBiz Technologies. His 8+ experience enables him to provide digital solutions to new start-ups based on IoT and ChatBot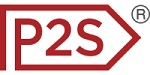 About Price2Spy
Price2Spy is an online service that provides comprehensive and suitable solutions for eCommerce professionals including; retailers, brands/manufacturers and distributors in order to stay profitable in the current competitive market conditions. If you want to learn more about what Price2Spy can do for your business, please start your 30-day free trial.