Reading Time:
2
minutes


Over the years with the help of our clients we've launched many features in order to fulfill our clients' needs and build a better tool. Finally, we are happy to launch one of the most important features that we've been working on for a long time.
Until now, we've published and notified our clients about all the new features,news, tips & tricks on our blog and our social media channels.
Today, we decided to go 1 step further and enable our clients to track all the new features, news, tips & tricks directly from their Price2Spy account!
1) When you login to your Price2Spy account, on the top right corner (next to your Profile name) you can reach Notifications tab (which is signified as the bell shape)
If you click on Notifications tab you can see the newest updates and then Read more or dismiss shown features / news / tips & tricks whenever you want.
In case you want to dismiss shown feature(s), you can do it individually by clicking X mark on the top right side. (please see screenshot below)
Please note that dismissed notifications won't be shown anymore.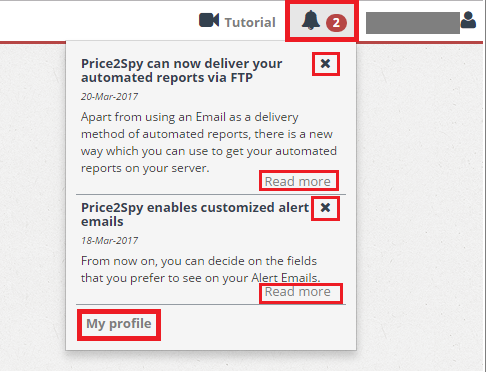 2) Even better, depending on your preferences you can decide which kind of notifications you want to track.
The type of User Notifications (all marked by default) are :
System notifications
New features
Tips and tricks
To customize your User Notifications please follow these steps:
from Notifications tab click on My profile (shown above ) or you can also click on My Profile under your Profile Name
on the new page from Display Notifications fields, you can choose your desired fields that you want to track
click Save (please see screenshot below)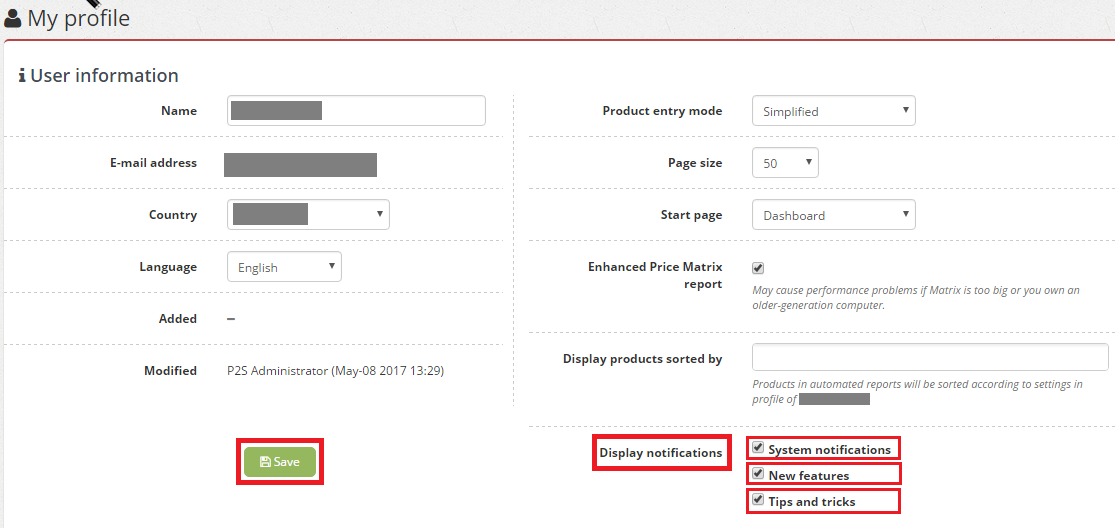 Afterwards, your User Notifications will show the regarded information that you selected.
Of course, we suggest you to track all the notifications in order to stay up to date latest Price2Spy news and features. ☺
Please let us know if you have any questions or comments, we would be happy to hear from you: support@price2spy.com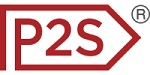 About Price2Spy
Price2Spy is an online service that provides comprehensive and suitable solutions for eCommerce professionals including; retailers, brands/manufacturers and distributors in order to stay profitable in the current competitive market conditions. If you want to learn more about what Price2Spy can do for your business, please get a personalized free demo or start your 30-day free trial.