How Price2Spy helped mycar to monitor a large number of highly complex products?
Mycar, our Australian client, comes from the vehicle repair and maintenance industry. It is one of the largest tire, automotive service, and repair businesses. Although a relatively new name in the industry, mycar started in 2019 as a rebranded business actually been successful since 1969. It currently manages over 270 stores across Australia and is one of the biggest employers in the automotive repair and maintenance industry.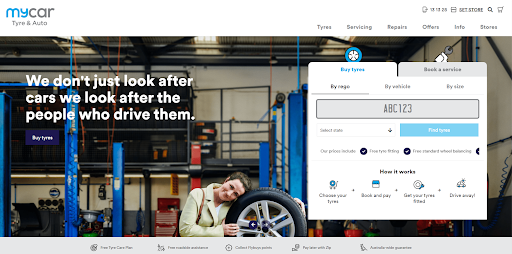 In 2019, at their new beginning, customer value remained at the core of their pricing strategy, aiming to establish trust with their customers and position the company as the favorite automotive service provider in Australia among people. As the same team as before 2019, with identical goals and values since 1969, mycar still offers everyday low prices and outstanding customer services at convenient locations across Australia by experienced and reliable technicians.
As the industry significantly changed since the company's foundation, mycar grasped the necessity of price monitoring in today's market. With innumerable many products and fierce competition, it was crucial to have an insight into market prices.
As mycar doesn't just look after cars, but they look after the people who drive them, the core of their business goal is customer satisfaction. Once the company realized the necessity for market monitoring, they searched for a tool for effective market price monitoring that could enable them to deliver value to mycar services users.
Some of the key challenges the company faced:
Inability to monitor the market effectively and efficiently due to the wide product range

Within a dynamic pricing environment, they needed to compare pricing to stay competitive
One of the main factors that influenced the choice of the tool is the customizability level. After thorough market research and evaluation of price monitoring tools, mycar picked Price2Spy because of the user-friendly app, reliable analytics, and long-term experience in customer service.
Price2Spy's given solutions
In May 2022, we were thrilled to welcome mycar to the Price2Spy client base. At first, they started with fewer products to be automatched and monitored weekly. In the meantime, they provided more URLs for monitoring and upgraded to the Price2Spy Premium package. However, they kept the weekly checkup frequency as the product prices in the automotive industry don't fluctuate as often as in other industries we operate in.
Considering that they monitor automotive tires, which are considered highly complex products due to the specificity of displaying product names on websites, as well as the necessity to set up many parameters to obtain the required data, Price2Spy suggested a manual matching approach.
Mycar gets an automated Price Matrix report once a week compiled from data collected based on a human-made, high-quality list of matched products whose accuracy is 99.8%. 
We proudly say that we manage to meet all of mycar's requirements so far. Here is what they say about our collaboration:
"Collaborating with Price2Spy has enabled our business to efficiently monitor market pricing and ensure we deliver customer value. Some of the reasons why we chose Price2Spy were because of the great customer service and user-friendly platform that can be tailored to our business needs."
If you are struggling with any aspect of the price monitoring process, start your 30 days free trial, and let's try to find the best possible solution for your business. We can guarantee a high level of customizability and the possibility to get the most meaningful market insights out of your data with the Price2Spy reports.