Select Shops – Canada (www.selectshops.com)
Here's what we're working
How Price2Spy helped Select Shops to monitor changes in the home decor industry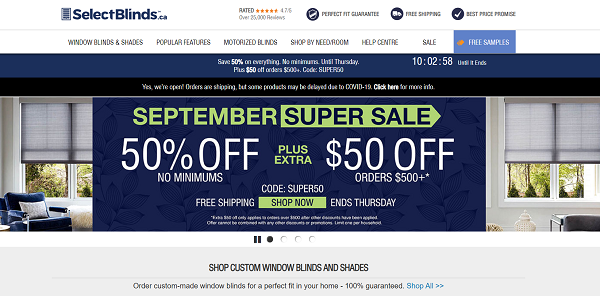 Price2Spy is a useful and filexible tool that has helped us monitor changes in the home decor industry more effeciently. We are still in the process exploring all of the useful features Price2Spy offers and are looking forward to implementing some additional functionality in the future.
Evan Posner, Select Shops
This testimonial is published with the client's full consent. Price2Spy will never publish any of our clients' details unless we are given permission to do so.
One of Canada's leading eTailers that provides you the best solution to your home decor needs. Whether you're looking for blinds, rugs and mirrors you are sure to find the perfect ones with SelectShops. Combining quality, value, and selection with friendly customer service is their straightforward approach to earning satisfied clients.
Issues
Monitoring products from the home decor industry
Focus on top selling SKUs
Monitoring different markets
Monitoring approximately 10 competitors
Product variations (e.g. sizes and prices) – all sharing the same URL
Frequent price changes
Solutions
Product matching performed manually and periodically by Price2Spy's data entry team
Premium account
Monitoring of product variations using site parameters
Possibility of a managed account – a part of the manual work caused by competitor sites' layout changes is performed on a monthly basis and included in the monthly fee
By its nature, Price2Spy is a very sensitive and discrete tool. For that reason, we have to be very careful about our client's data privacy, which is an absolute priority for us.
Therefore, we will not be able to show too many testimonials nor success stories on this page. The ones we will show should just give you a brief idea on how Price2Spy can be used in your own business.