Our newly introduced report, Head to Head comparison, succeed to become one of the most popular report among our clients. So, upon a request of one of our client, we decided to implement historical version of this report.
As you already know, Head to Head comparison report enables you to:
compare 2 competitors' pricing data independently from your own site,
discover if the 2 websites are monitoring each other and therefore affecting one another's pricing strategies
All the rules mentioned above applies to our brand new report Head to head comparison – historical comparison with an additional feature that enabling you to compare 2 sites' pricing data according to selected criteria over a period of time.
To run Head to Head comparison – historical comparison report all you need to is select the following criteria according to your needs:
Site A
Site B
Date range (last 7, 15, 30 days; last 3 months; custom)
Price difference sensitivity (Price2Spy will consider prices the same if the difference is less than selected percentage)

After that, you'll see a chart where each value represented with different coloring day by day:
Products where site A is cheaper than site B
Products where the prices are equal on both site A and B
Products where site B is cheaper than site A
Product offered only by site A
Product offered only by site B
If you focus on one specific value / coloring and hover over your mouse, you'll be able to see the number of affected products for the chosen date. To illustrate, we focused on yellow color where the product pricing is equal on MyWebsite.com and thomann.de, so you can see the number of such products on 26th of December on the chart below.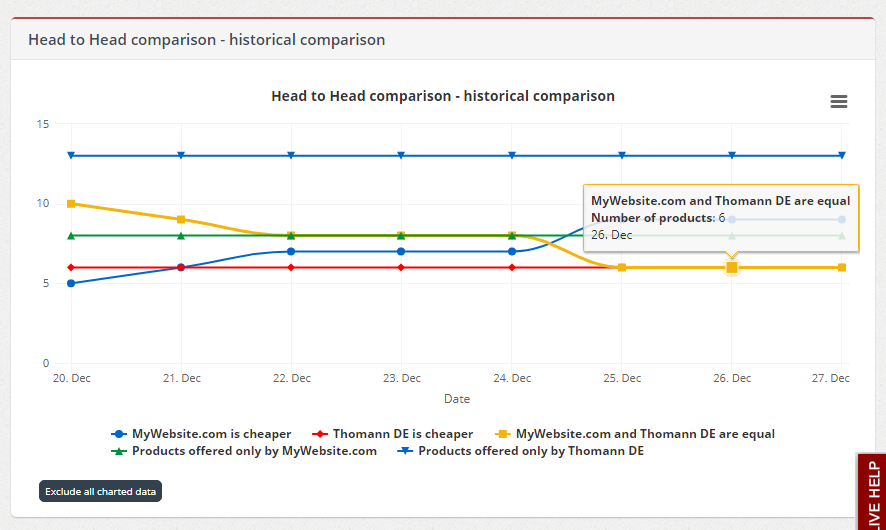 How do you like our new report? Please let us know, feedback is always welcome!

About Price2Spy
Price2Spy is an online service which provides comprehensive and suitable solutions for eCommerce professionals including; retailers, brands/manufacturers and distributors in order to stay profitable in the current competitive market conditions. If you want to learn more about what Price2Spy can do for your business, please request a demo or sign up for 30-day free trial.