How much can you actually save with Price2Spy?
If you're an online seller, then you're aware of how challenging it is to keep track of all market changes. One of those changes is the price fluctuation. In order to stay ahead of the competition, you need to follow all relevant price changes. This can be a very daunting and time-consuming task. 
For example, have you ever calculated how much time you need to follow N combinations of price points (website x product x day)? Maybe you did, but probably just roughly.
Besides the time, another important factor to include in the equation is money. It's not irrelevant how much it will cost you to perform this task manually. But why bother with it if there is an automated solution that can do this task for you! One of those solutions is Price2Spy. 
Now, you might think that having an automated solution is an even more expensive option, but is that really the case?
What do the numbers say?
Let's take three different markets as an example – the US, Philippines, and Germany. These three markets have different labor costs, so they are very useful for making comparisons.
As we said, this is a very time-consuming task, which means that some of your employees will need to dedicate their whole day to perform it. In other words, they won't be able to participate in other, equally important tasks.
To make everything clearer, take a look at our monthly calculation table. The difference between using Price2Spy and performing the task manually is more than obvious. During one month only, your savings would be $76.52 (Philippines); $852.38 (Germany), and $584.57 (US). How significant is that!
In our sample calculation, we have taken the following example:
Let's suppose you need to check 100 products on 5 competitor websites, once per day;
Let's suppose it takes the 30s (0.5 minutes) to perform this check, and write it down in your datasheet. That means 250 minutes of dull work, each day
Now let's calculate how much you will pay your employee who's in charge of this dull work –supposing you're paying him/her the minimum wage as defined by law; 
You will be astonished how much money (and time) an automated price monitoring tool (like Price2Spy) can save you!
In the Philippines – we'd save you 61% of labor costs
In the US that would be 92% save
In Germany even higher – 94% savings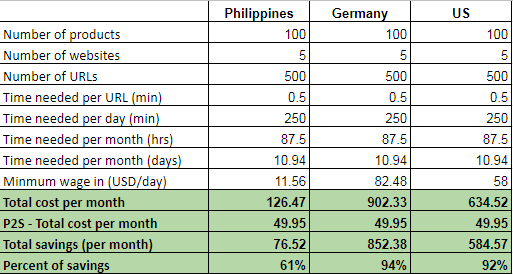 Besides the monthly calculations, we did the weekly ones as well.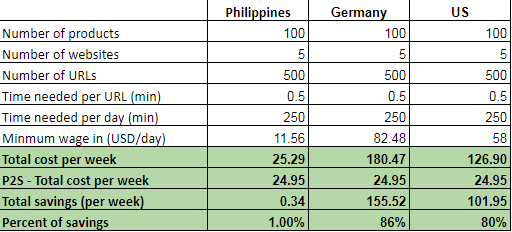 In these tables, we wanted to present to you the benefits that are related to Price2Spy's data capturing mechanism. Besides data capturing, Price2Spy brings you more useful features that can help you grow your business:
And it's not only savings. Price2Spy brings you a variety of other benefits, helping you to track your competitor prices, and make your own pricing decisions in a more efficient way:
Alerting – you'll receive an alert mail whenever the price change occurs
Analytics – clients are happy to use the numerous reports that Price2Spy has to offer
Repricing indications – having all this data is important in order to have a better insight into your market position. With our repricing indications, you'll be able to define the most suitable pricing strategy and know when is the right time for price changes
Of course, it is not easy to make a precise calculation for all these features, since a large number of factors are involved. However, it is clear that performing such tasks is certainly easier and simpler with a price monitoring tool such as Price2Spy.
In case you're not completely sure that this is the right tool for you, we invite you to start a free 30-days trial period. You'll have enough time to test all the features by yourself and decide on the ones that you find the most suitable.
What are the features that you're looking for in a price monitoring tool? We would love to hear your opinion! Feel free to leave a comment below.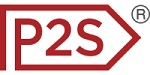 About Price2Spy
Price2Spy is an online service that provides comprehensive and suitable solutions for eCommerce professionals including; retailers, brands/manufacturers and distributors in order to stay profitable in the current competitive market conditions. If you want to learn more about what Price2Spy can do for your business, please start your 30-day free trial.