Monitoring a single product across different markets
Price2Spy clients who operate on several markets (quite often involving different currencies) will sooner or later face an important crossroad, which is illustrated in a simple question
What is the best way to monitor a particular product across several markets / countries / currencies?
In essence, we come down to 3 potential solutions:
A – Monitor all markets / sites within a single product
B – Define separate products for different markets (typically, one product per country)
C – Monitor each market (country) within it's own, separate Price2Spy account
Lets now discuss PRO's and CON's of each of these options
A) Monitor all markets / sites within a single product
Typically, this would mean creating a single product, with 20 – 50 URLs (URLs from all sites, no matter what country, would go into this product)

The above example shows a single product monitored across sites from UK, France, Luxembourg and Germany
PROs
Very convenient for comparing prices over a whole range of sites (across different markets).
If multiple currencies are involved, setting up exchange rates helps establish overall pricing comparison.
This method is most popular in industries with a lot of cross-border online purchases (shoppers from country A shop online in country B, because of cheaper price found there)
Splitting email alerts can be achieved per brand, category or per site group (site groups can be defined per country)
CONs
Since only one MAP (minimal advertised price) can be defined per product – if multiple currencies are involved, MAP price violations won't work (you can't have different MAPs defined for different currencies)
If multiple currencies are involved, setting up exchange rate will mean that you do not see the product's original price any longer
On the other hand, if exchange rate is not setup – you will see original product prices, but the price comparison features can't be used
Filtering reports per country is not possible
All employees have access to all pricing data (from all countries)
B) Define separate products for different markets

Here we create separate product for each country. For example, if we're speaking of product X, several variations of this product would be created
Product X (UK) – for URLs from UK sites
Product X (NL) – for URLs from Dutch sites
Product X (DE) – for URLs from German sites
Product X (FR) – for URLs from French sites
Further, in order to use split country features, we will introduce 4 suppliers (UK, NL, DE, FR), and assign each product to the given supplier. The supplier has no real meaning, except that it's use will enable many other Price2Spy features to be unlocked (please read on)
PROs
Each product (from each country) can have its own MAP and purchase prices defined
Splitting email alerts per country (alerts for UK sites go only to UK recipients)
Executing filtered reports (per supplier = per country)
Defining pricing strategies (per supplier = per country)
CONs
Products need to be copied in multiple country-variations (price2Spy team will be happy to assist with this task, at no additional cost)
No easy way to compare products from various countries
All employees still have access to all pricing data (from all countries)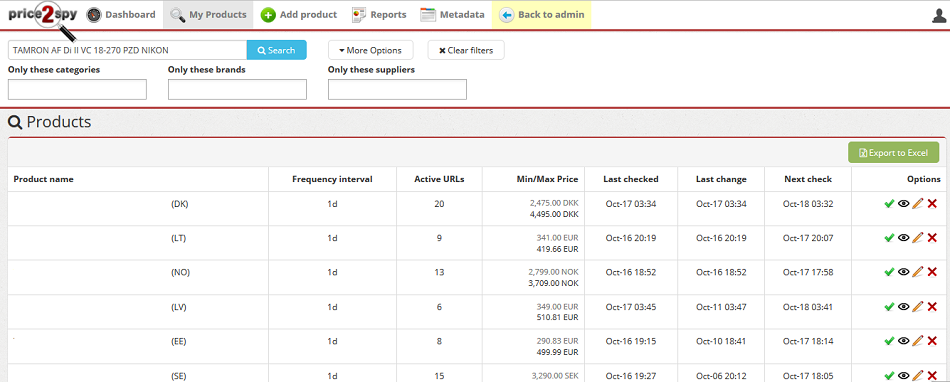 The above image shows a list of 7 products of a client working Scandinavia / Baltic market (product name is deleted for data privacy reasons). In essence, it represents a single product multiplied in 7 variations (because it needs to be monitored in 7 countries). As you can see, prices are captured in DKK, NOK, EUR tc (depending on the actual country)

Above you can see a screen listing Lithuanian version of this product (as you can see, only Lithuanian sites are featured)
C) Open separate user accounts for each country
Each country will have its own account, with its own products defined.
PROs
Users from each country have access only to its own products / data
No need to split emails alerts per country
No need to apply country-specific filters
CONs
No easy way to compare prices across different countries
This solution is more expensive than having a single account
What would our recommendation be? There is no simple answer, as different options work better for different sorts of clients.
We do have clients using all 3 options, though option C) is quite rare.
Instead of giving a simple answer to this question, we'd recommend to speak to Price2Spy support team, explain the details of what you exactly need – and this will enable us to advise the solution which will fit the best.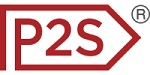 About Price2Spy
Price2Spy is an online service that provides comprehensive and suitable solutions for eCommerce professionals including; retailers, brands/manufacturers and distributors in order to stay profitable in the current competitive market conditions. If you want to learn more about what Price2Spy can do for your business, please start your 30-day free trial.