Reading Time:
2
minutes


As you all know Price2Spy not only gathers pricing data, but also gives you the opportunity to analyze it. After recently introducing a number of new reports, we are now implementing another report in our Reports and Dashboard tabs.
From now on you will be able to use the Head to Head comparison report that will help you directly compare 2 websites in terms of the pricing data according to different criteria.
All you need to do is choose the Head to Head comparison report and select the following criteria:
Site A
Site B
for which time you would like the data to be analyzed
Price difference sensitivity (Price2Spy will consider prices the same if the difference is less than selected percentage)

For example, if you fill in Price difference sensitivity = 3%, Price2Spy will consider all prices from Website B which are within 3% range of Website A – to be equally priced
You'll receive a list of all possible outcomes:
Products where site A is cheaper than site B
Products where the prices are equal on both site A and B
Products where site B is cheaper than site A
Product offered only by site A
Product offered only by site B

You get to see additional information by clicking on the number of products for a particular scenario – a list of affected products will appear.

As all other reports in Price2Spy this one can also be both Saved and Automated.
You can also create a Head to Head comparison widget according to the same principles on your Dashboard. Click on one of the possible options and you will see a preview of the affected products.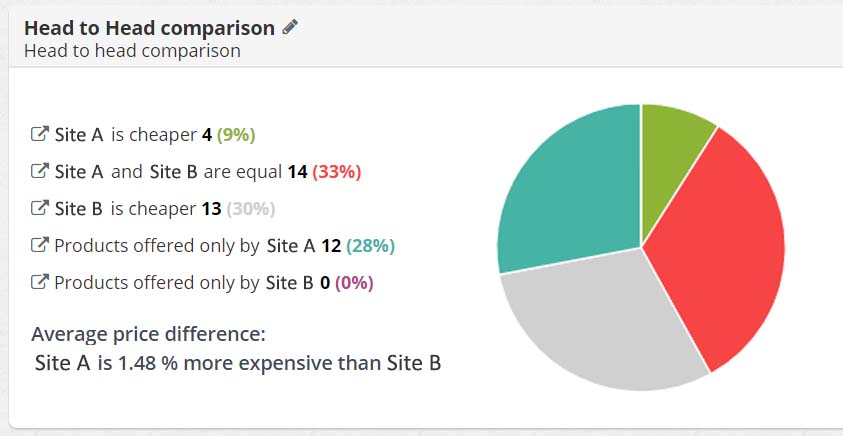 This widget will give you a head-to-head analysis of 2 competitors at a quick glance (beside the usual 'me and my competitors' logic). You can easily see if Site A is cheaper / more expensive from Site B and the share of different pricing situations.
Please keep in mind that you can calculate a difference between Site A and Site B in your Head to head widget based on the following options:
Product price (default option)
Price index based on average price
Price index based on site B
If you want to learn more or  change your calculation logic, please contact your account manager.
Why is this report useful?
You can compare 2 competitors' prices independently from your own site
You can easily discover if the 2 websites are monitoring each other and therefore affecting one another's pricing strategies
What are your thoughts? Please let us know at support@price2spy.com – waiting for your feedback.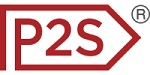 About Price2Spy
Price2Spy is an online service that provides comprehensive and suitable solutions for eCommerce professionals including; retailers, brands/manufacturers and distributors in order to stay profitable in the current competitive market conditions. If you want to learn more about what Price2Spy can do for your business, please get a personalized free demo or start your 30-day free trial.