Reading Time:
2
minutes


Our development team were pretty active in previous weeks – and hence Price2Spy got quite a new number of reports / features. Price Competitiveness report is one of our brand new report and implemented in Price2Spy Reports and Dashboard section.
From now on, you can select the Price Competitiveness report and compare chosen site's pricing data against other sites to see where they stand on the market. You will get a head to head comparison against each one of the monitored sites selling the same products.
To run Price Competitiveness report all you need to is select the following criteria according to your needs:
Site A
Show prices from (now, yesterday, 1 week ago, 3 months ago; 1st of this month, 1st last month and etc.)
Price difference sensitivity (Price2Spy will consider prices the same if the difference is less than selected percentage). For example, if you fill in Price difference sensitivity = 3%, Price2Spy will consider all prices from Website A and other sites equally priced.
*** This report also has a color code, and it represented on the top and right hand-side of the list.

If you click on any percentage on the list, you'll see a preview of the affected products.

Moreover, by running this report, you can also see the price index based on a competitor site. It means that you can easily analyze the price index based on a competitor site, and see whether your chosen site is cheaper or more expensive compared to competitors.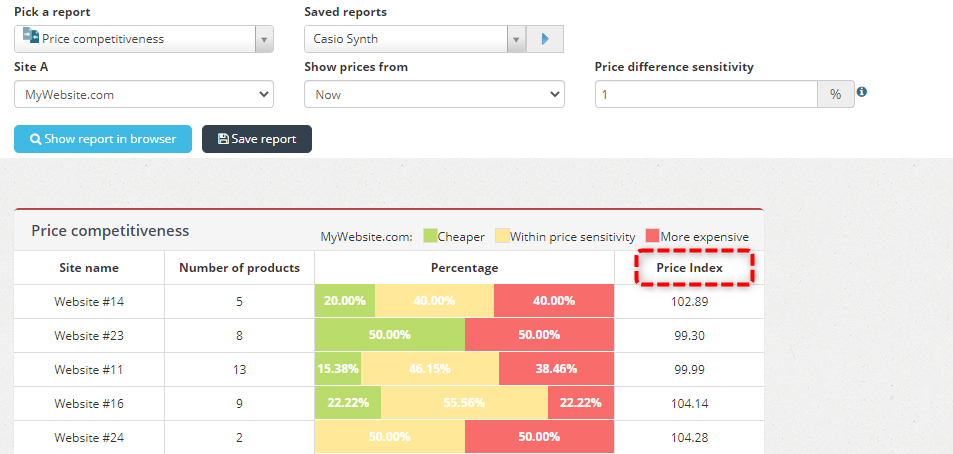 As many other reports in Price2Spy, this one also can be Saved, Automated and Exported in Excel.
You can also create a Price competitiveness widget according to the same principles on your Dashboard.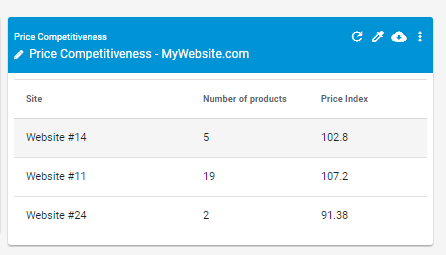 Why is this report useful?
1. You can directly compare your site or any other site against all of the competitors that you're monitoring on the market.
2. You can easily discover and spot which websites are monitoring each other and therefore affecting one another's pricing strategies.
How do you like our new report? Please let us know, feedback is always welcome!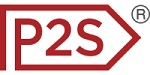 About Price2Spy
Price2Spy is an online service that provides comprehensive and suitable solutions for eCommerce professionals including; retailers, brands/manufacturers and distributors in order to stay profitable in the current competitive market conditions. If you want to learn more about what Price2Spy can do for your business, please get a personalized free demo or start your 30-day free trial.