Pricing strategy: identifying products with pricing opportunities
In over 4 years we've been in business, the philosophy of Price2Spy was 'We provide you with competitor pricing data, you make business decisions yourself'.
Today we're introducing a brand new feature – Pricing Strategy – which could mark the first step in a direction of Price2Spy not only providing the raw data, but also suggesting business decisions.
How does it work? Basically, we ask you to define your strategy (for example: you may tend to be the cheapest player on the market), and desired profit margins. Then we take into account several other factors like product's purchase price, MAP pricing and of course competitors' pricing.
The result is a list of suggestions (actually we call these product pricing opportunities).
But lets go one by one.
1. First of all, please make sure you have defined your own site in Price2Spy Settings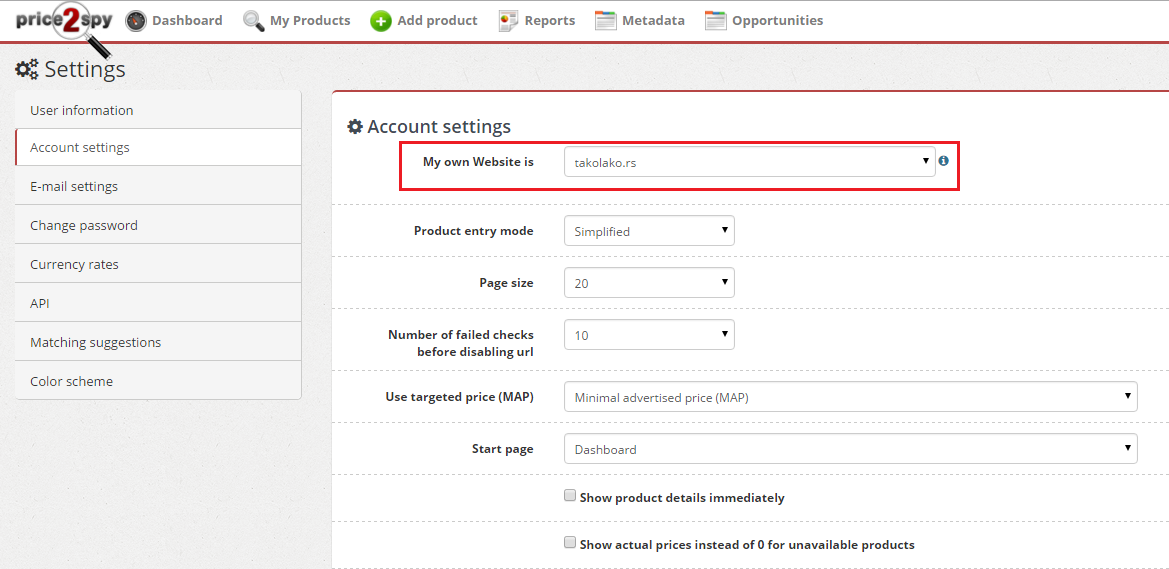 2. Then, you should go to Opportunities tab in the upper part of your screen

3. Please click on New Strategy – the Price Strategy Wizard will walk you through the Strategy setup process.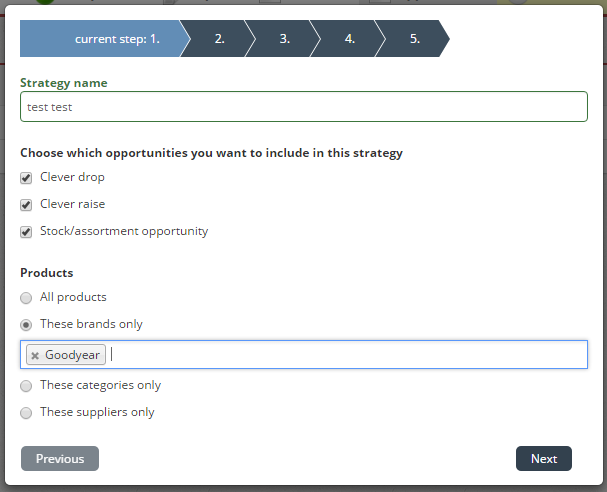 Important things on this screen are
Your Strategy Name (please name it so it's easy to recognize amongst other strategies you may add later)
Types of pricing opportunities you'd like as part of your Strategy
– Clever drop – typically, these are prices which can get lower (so they match your competitor's), but still to keep you your profit within desired margin. This calculation is based on your product's purchase price
– Clever raise – typically, these are prices where you're already cheapest, but perhaps far too cheap
– Stock / assortment opportunity – these are products offered by your competitors – but not by your own store.
Next option is very important: would you like this strategy to be applied to all products, or just for some Categories (or Brands, Suppliers…). Watch out – you cannot have one strategy applied per Brand, and other (for example) per Category.
4. Next thing – you should define options related to the Clever drop opportunity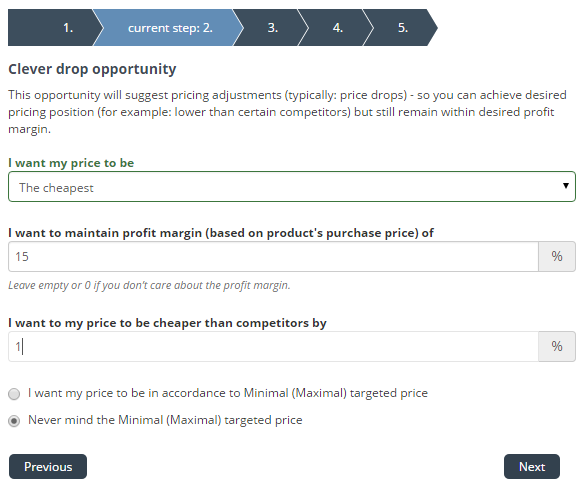 Desired price positioning – you can define whether you'd like to be
– the cheapest
– the most expensive
– cheaper than 1 (or more) competitors
– more expensive compared than 1 (or more) competitors
The profit margin you'd like to maintain (this will be calculated based on the product's purchase price)
Whether you'd like your price to be in agreement with Targeted price (if there is Targeted price defined for your product)
5. Further – you should specify the options for the Clever raise opportunity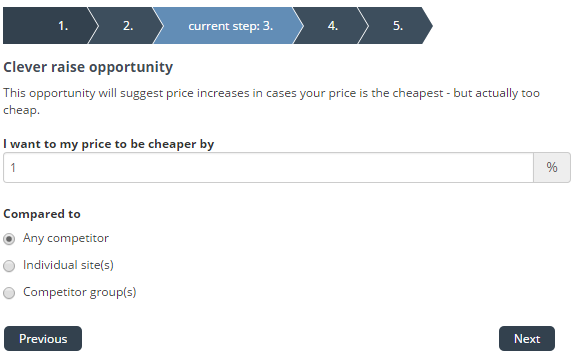 Practically this means – can I increase my price, and still be the cheapest (or cheaper than certain competitors) by X% (by default, X = 1%)
6. Stock / assortment opportunity is pretty simple, offers no configurable option

7. Finally, you're offered to create a Price Opportunity Widget for this particular strategy. This widget, like all other widgets, will be shown in your Pricing Dashboard

8. Now's the time to check what pricing opportunities Price2Spy has to suggest. You'll see the listed pricing opportunities with the details such as the number of affected / monitored products etc.

In this particular example we have
3 products with suggested clever drop
3 product with potential clever raise
1 product with stock / assortment opportunity
9. You can choose an opportunity to see more details on the affected products by clicking on that opportunity, or by clicking on the number of products.

On this screen you'll be able to see all product details including current price, and the suggested price. This list can be exported to Excel. Cool, right?
10. Finally, if you decided to create a widget in your Pricing Dashboard, you'll get something like this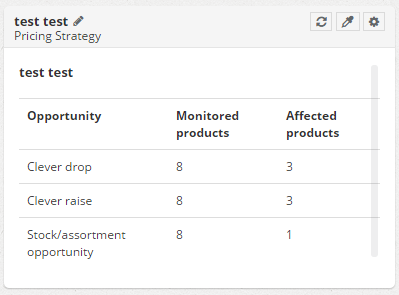 Again, click the opportunity name or the number of affected products and that will take you to the same list of products, as shown on the previous screen.
We hope our new Opportunities module will help you speed up your everyday work, and of course, gain the upper hand with your competitors.
Of course, all your ideas for improvement of this module would be very welcome.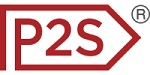 About Price2Spy
Price2Spy is an online service that provides comprehensive and suitable solutions for eCommerce professionals including; retailers, brands/manufacturers and distributors in order to stay profitable in the current competitive market conditions. If you want to learn more about what Price2Spy can do for your business, please start your 30-day free trial.