Product / Competitor List – New Price2Spy Report
Our developers were pretty active in previous weeks and quite a number of new reports / features were launched in Price2Spy. Product / Competitor list is a new report we have added in order to improve Price2Spy Report section.
It is accessed through Reports => Products / Competitor list. When opened in Excel it looks similar to the Price Matrix Report and products are presented by rows, while columns are arranged in a different way. If we take the image below as an example, the columns are as follows:
Column A – Internal ID
Column B – Category name
Column C – Brand name
Column D – Product name
Column E – SKU
Column F – Competitor sites
Column G – Last known price
Column H – Availability info
Column I – Active / Inactive URL info
Same product is listed across more rows (depending on the number of sites it is motored on). So rows 4, 5 and 6 are actually one product named Box Truck Steel White. Besides general product info displayed (Brand, Category and so on) we can see that the product is monitored on 3 sites (their names are displayed in column F but were blurred for privacy reasons). The report also shows last price captured by Price2Spy (column E), and availability info as well (e.g. competitor in row 5 seems to be out of stock at the moment – column H). Colour code is the same as in regular Price Matrix (Red for expensive and Green for cheap).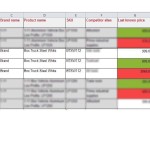 As you can guess – our clients come from various parts of the world and deal in different kinds of merchandize. Therefore they have different needs. We listen to their suggestions and create reports and features in Price2Spy if we find their ideas generally useful. Any ideas for new reports that you think you can make use of in Price2Spy? Looking forward to any new suggestions!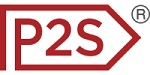 About Price2Spy
Price2Spy is an online service that provides comprehensive and suitable solutions for eCommerce professionals including; retailers, brands/manufacturers and distributors in order to stay profitable in the current competitive market conditions. If you want to learn more about what Price2Spy can do for your business, please start your 30-day free trial.