Reading Time:
6
minutes


As a SaaS company, there is one incredibly valuable aspect that your company needs to use in its growth strategy – flexibility. But what exactly does it mean to be flexible? The understanding of flexibility will of course vary from company to company, depending on their business environment. In the case of Price2Spy, flexibility is reflected in the way we perform price monitoring and deliver reports to our clients.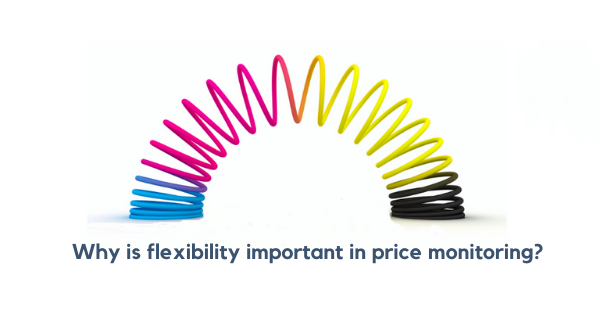 How important is flexibility in price monitoring? Probably more than you can think.
Let's show you a few concrete examples.
1. Product matching
The first step of price monitoring is product matching. There is no way to keep up with the price changes if the products aren't matched properly. However, not every product matching task is the same. Some products (and websites) can be matched automatically, some can not. Besides manual matching, Price2Spy has developed other ways such as Automatch and Hybrid Automatch.
Automatch is a continual automated product matching process that can be done at different intervals, depending on your needs. It is especially useful if you use highly standardized product identifiers like EANs, MPNs, UPCs, or ASINs, and need to match more than 1000 products.
Additionally, some cases require a continual automated process, but the products can not be effectively matched by unique identifiers (no EANs, UPCs, MPNs, etc). For those clients, we highly recommend using the Hybrid Automatch. This solution will provide matching candidates that will afterward be approved by a human.
In addition to Hybrid Automatch, we can use a Machine Learning (ML) algorithm that can
go over the products from both yours and competitor sites. It will make sure that only meaningful and right matching candidates get suggested.
Product matching via machine learning was an extremely complex project that took us 18 months to finish. But, the hard work paid off – no other service (and there are many of them operating worldwide) offers this kind of feature!
We discussed product matching in more detail here.
2. Custom reports
After providing all the necessary information, it's equally important to present it to the clients accurately and understandably. That's why Price2Spy is offering numerous reports. However, some of our clients still require additional information.
No problem – Price2Spy can offer you fully customized reports.
This means that the file we'll export for you will contain the data you requested. Usually, this kind of report is done daily, but if you want, it can be done more or less frequently.
More details on various customizable components of Price2Spy can be found here – https://www.price2spy.com/en/custom.html
3. Different currencies
Since our clients come from all over the world, we understood early on that we need to find a solution for different currencies. Some users want to follow all products in the original currency, while some want to make the conversion to some main value (USD or EUR). All options are possible with Price2Spy – clients have the opportunity to choose the wanted currency.
4. What if some competitors don't carry all the brands you want to monitor?
In some cases, brands or products that you would like to monitor are not always present on competitors' websites. Usually, they are, but the problem occurs when that's not the case. Therefore, Price2Spy has found a solution for those cases as well. We can offer you to divide the products/brands which you would like to monitor. That means that Price2Spy can perform price monitoring of products that you're interested in, but on different websites simultaneously.
Don't worry – it won't make your user experience confusing. All this background work is done by our team, and you'll receive all the information included in your reports.
5. Capturing more product details
You need to capture specific product data in addition to price and availability? – no problem, we're flexible.
Some of our clients require more product details to perform market analysis and make the right business decisions. However, many price monitoring tools aren't able to perform this.
With Price2Spy those problems will remain in the past. We can capture any product's information as long as it's displayed on the product page. Some of the most commonly captured product data include stock status, seller name, shipping information (time, costs, and other details) number of reviews and their average rate, etc.
Of course, all this information will be delivered to you in some of our usual reports, or in a custom made one, if that's what you need.
6. Price monitoring on B2B and B2C websites
As you might know, Price2Spy is successfully collaborating with around 650 clients from completely different industries. Over time, our clients gathered themselves in three categories – online retailers, brands/manufacturers, and distributors. Besides this, our clients also differ depending on whether they are B2B or B2C company. Of course, that means that Price2Spy needs to be able to perform price monitoring on both website types.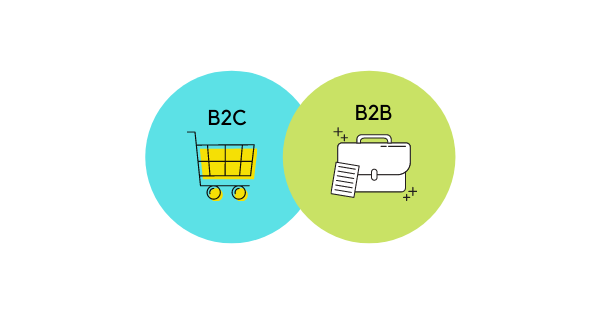 Those websites can have different sizes – some of them are big (more than 1 000 000 product pages) and some are small (less than 1000 product pages). Also, some can be location-sensitive. For instance, Amazon.com will show different results for international and for US visitors.
7. Monitoring marketplaces and individual competitors
Some websites that Price2Spy is monitoring are marketplaces, while others are individual competitors' websites. Both options are covered. We would suggest performing products matching directly on competitors' websites since it's more accurate, but the other option is also possible. Some websites have a very complex page navigation structure, but Price2Spy was able to handle those cases as well.
On the other hand, some marketplaces have strong anti-bot protection (they don't want to be crawled) – for example, Amazon. No worries, Price2Spy has a solution for that.
In certain cases, our regular methods are just simply not enough so we have to go for our last resource – Stealth IP. This technique makes it practically impossible for systems to distinguish regular traffic from the traffic generated by Price2Spy.
As you can see, you make the final call – price monitoring can be done on marketplaces or on individual websites, whatever you prefer.
8. Field naming in Price2Spy is customizable
Another Price2Spy feature that is customizable is the field names. For instance, we can name the field MAP, and that would be appropriate for one client, but another might want to rename it to MSRP.
Other clients express the need for capturing data regarding product origin. In those cases, Price2Spy can customize a field named Product Origin.
Many clients are also interested in reviews. There is an option to capture the number of reviews from the product page as well.
As you can see, we are faced with different causes, but we're able to create a custom field name for everything that you find important.
9. Colors in Price2Spy are also customizable
Our reports are not just about numbers. We understood that clients find it more understandable when the report has a visual element as well. Therefore, different elements are shown in different colors.
For example, we use red to highlight the single most expensive product, green for the single cheapest. Dark grey shows repricing opportunities, while light grey shows inactive URLs. In case there is an URL with zero price it will be shown in yellow. Violet color will indicate the current repricing opportunities, so you'll know where you stand on the market and if there is room to improve your position.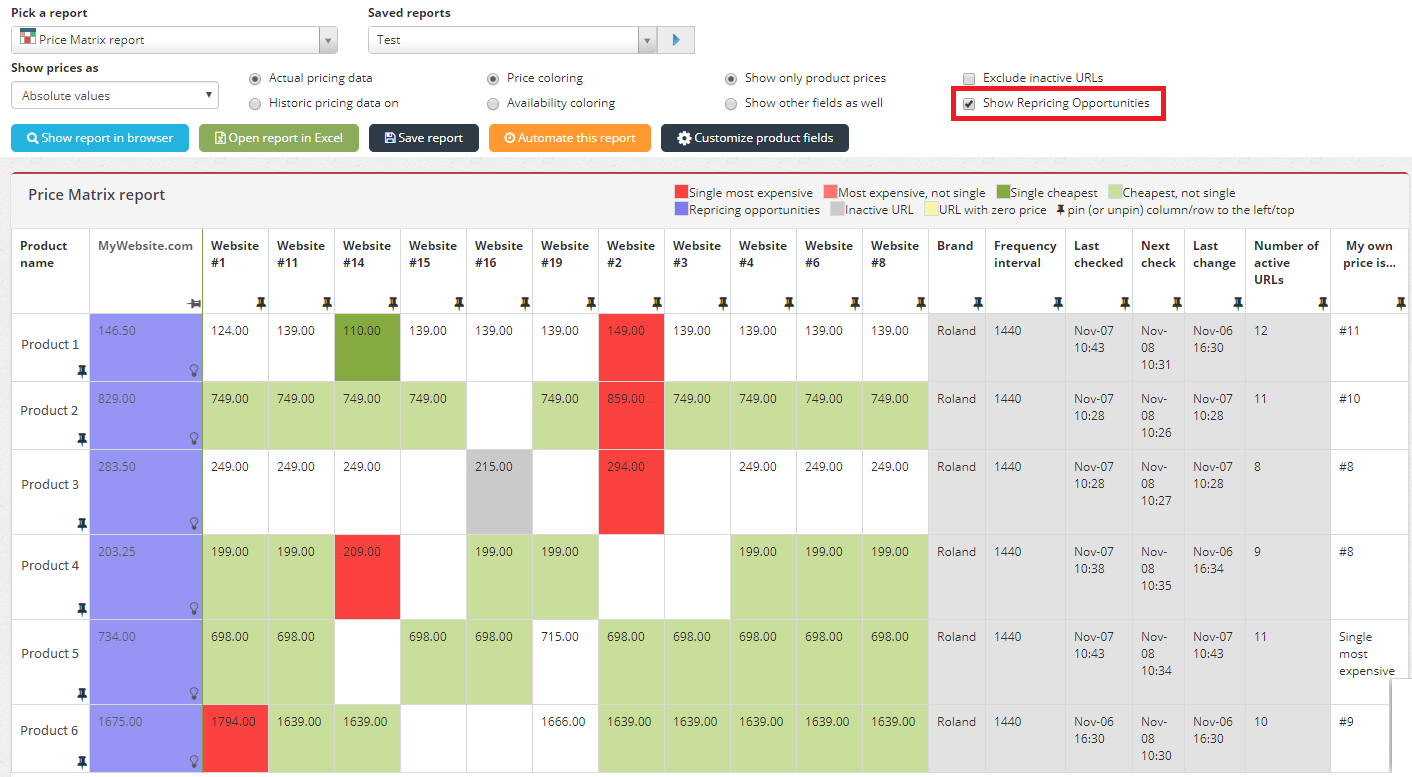 However, not all clients interpret all colors the same. One client can understand that the red color signalizes some kind of alert, while others can see it as a sign of a very high price. Due to that, the colors in our reports are also customizable.
10. Competitor names in Price2Spy are customizable as well
Do you have your own abbreviations / internal names used for various competitors in various countries? Price2Spy can accommodate that as well! Besides entering the standard competitor name, Price2Spy can name them in a way you find it easier to keep up with.
We don't expect you to adapt – Price2Spy will adapt to your needs instead
There is a lot to think about when it comes to choosing the right price monitoring tool. One of the most important aspects that you should be looking for in such a tool is flexibility. Not only that it will help you with your current requirements, but moreover, you'll be sure that a company is openminded for exploring new solutions.
Therefore, we invite you to check out Price2Spy and try the options mentioned above. We know that it requires time to familiarize yourself with the tool, so we offer you a free 30-days trial period.
What are you looking for in a price monitoring tool? Is flexibility one of your top priorities? In case it wasn't, we hope that you'll now consider it more important.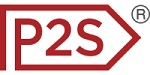 About Price2Spy
Price2Spy is an online service that provides comprehensive and suitable solutions for eCommerce professionals including; retailers, brands/manufacturers and distributors in order to stay profitable in the current competitive market conditions. If you want to learn more about what Price2Spy can do for your business, please get a personalized free demo or start your 30-day free trial.