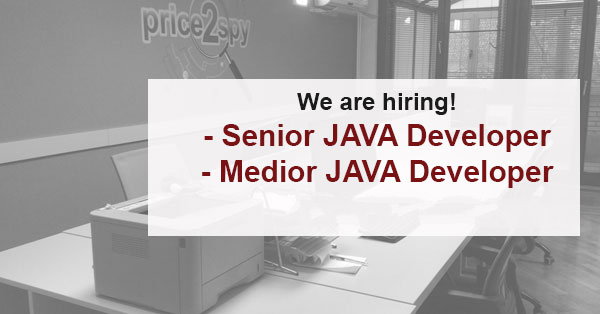 Are you looking for a fun family-like environment with tons of growth opportunities? Then Price2Spy is the right place for you!
WEBCentric (Price2Spy's mother company) is a software development company, specializing in eCommerce solutions, Webshop and CMS solutions. With over 15 years in business and Web development experience, we still define ourselves as a young and very agile company.
Our main characteristics are creativity, professionalism, reliability and responsiveness. Even though our development methods and procedures are very formal and well-defined, the overall atmosphere in the company is pleasant and relaxed.
Our price monitoring service – Price2Spy,(http://www.price2spy.com), is a software product that is continually being developed and perfected. It is currently used by over 500 B2B clients worldwide. It involves very complex distributed server architecture, a database carefully designed to accommodate complex queries encompassing millions of records, a main Webapp written in Java spring framework, and a number of processes revolving around it.
We are looking for diligent candidates who are capable of working as a part of a team (20 developers, 37 employees in total), as well as working independently on individual projects.
We are offering a flexible, comfortable and relaxed working environment, salary in accordance to market conditions and other benefits as well.
For the detailed info please click on the following job posts:
If you meet the requirements and are interested, please feel free to submit your application from here: ow.ly/RTke30hnbV7
Please also feel free to share it on your professional network as this may be someone else's dream opportunity.

About Price2Spy
Price2Spy is an online service which provides comprehensive and suitable solutions for eCommerce professionals including; retailers, brands/manufacturers and distributors in order to stay profitable in the current competitive market conditions. If you want to learn more about what Price2Spy can do for your business, please request a demo or sign up for 30-day free trial.